Tweet
Select a song title to
learn more about that song.
Best of 2017 albums: David Bash (IPO), Play Me Some of That, and Richard Rossi of PowerPopNews.

"The Stonesy rocker 'Feint of Heart,' the sweet 'Forgotten Secrets' and 'A Trick of the Light,' and the spiffy 'Malaprop Girl' are all choice cuts ... Four State Solution is certainly a positive first step." -- John Borack, Goldmine Magazine

"These songs, sounding effortless and imbued with the spirit that drives melodic pop, are living, breathing bite-size reminders of what it is about such music that draws so many people to it." -- Alan Haber, Pure Pop Radio

"Those who loved the more rocking end of the 'Tones catalog will delight in this set, but there are plenty of lovely, quieter moments, too." -- Bill Kopp, Musoscribe

"The album is Four State Solution, it's your favorite album of 2017..." -- Carl Cafarelli, This is Rock 'n' Roll Radio and former Goldmine Magazine contributor.

"A cool album chock full of gliding melodies, cool guitars, and distinctly groovy rhythms... Twelve superb tracks... Top pick." -- LMNOP aka dONW7, Babysue

"One of the powerpop surprises of the year..I needed several listens to appreciate all the nuances in these collected grooves... powerpop with flashes of American rock that I ultimately enjoyed. Rating: 9. -- MyDualTocaDiscos.
Four State Solution is our debut album. It came together as a result of Spongetones bassist Steve Stoeckel inviting friends on social media to collaborate in songwriting: Stoeckel threw out titles and music, asked for lyric snippets, assembled the snippets from contributors into full song lyrics, and recorded the song. Along the way, Stoeckel enlisted the guitar talents of Joel Tinnel, who introduced him to Bruce Gordon (aka Mr. Encrypto), who had several CD's to his credit. Gordon subsequently introduced Stacy Carson to the group.
We had so much fun creating a first song together that we decided to form a band and release an entire album. The effort was truly cooperative: each of us wrote, recorded, engineered, produced, and mixed these 12 songs in every combination. "POP CO-OP" was the obvious band name.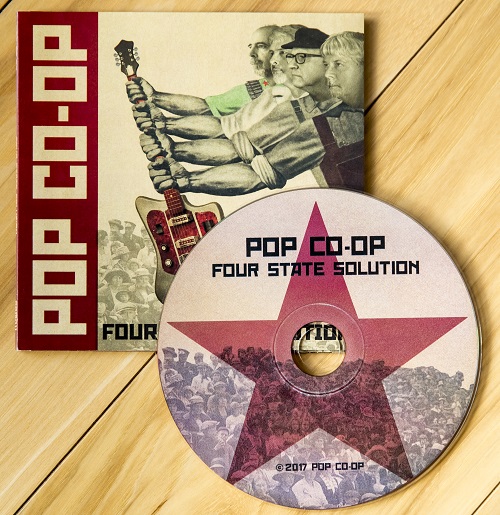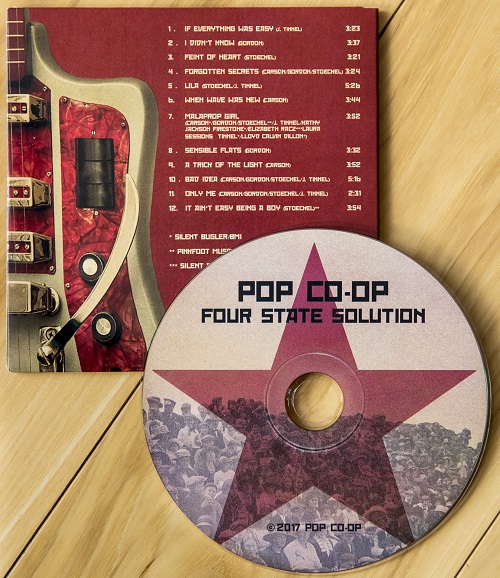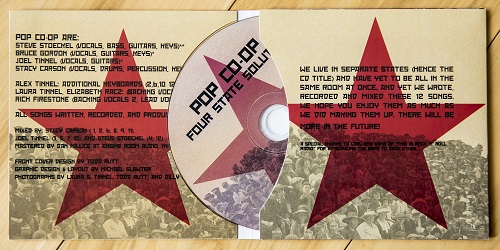 Released: 2/8/2017 on Silent Bugler Records
All songs written, recorded, produced, and mixed by POP CO-OP.
Mastered by Dan Millice at Engine Room Audio, NYC.
Front Cover Art by Todd Rutt.
Graphic Design and Layout by Michael Slawter.
Photographs by Laura S. Tinnel, Todd Rutt, and Dilly Carson.