Tweet
Select a song title to learn more about that song.
Digital downloads available at:

"Listeners who find themselves looking for a tuneful, chiming good time will delight in the album [...] a consistently well-crafted album [...] Perhaps too eclectic to be labeled powerpop, too sophisticated to qualify as meat 'n' potatoes rock'n'roll, in the end, the second album from this far-flung foursome is just what the group's name says it is: pop. And it's pop of the very best kind." -- Bill Kopp, Musoscribe, contributing editor at Goldmine: The Collectors Record and CD Marketplace, and Jazz & Prog Editor at BLURT magazine.

"If there's a single word we would use to describe these songs, that word would probably be...inspired. These tracks feature cool smart winding melodies and vocals that are always right on target. Well-crafted in every way, and the end result is a string of smart hummable tracks that will surely stand the test of time." -- LMNOP aka dONW7, Babysue

"The new album is a treat anna half, and you will be eager to hear more." (Episode 1016), "Welcome to Your Favorite Record Of 2020." (Episode 1018) -- Carl Cafarelli, This is Rock 'n' Roll Radio and former Goldmine Magazine contributor.

"Although Pop Co-Op boldly broadcasts their influences, Factory Settings cannot be viewed as an exercise in retro-mania. Their energy and approach is fresh and immediate, causing their compositions to be stamped with their own unique imprint." -- Beverly Paterson, Something Else Reviews

"Factory Settings is pop music for adults." It is "by and large very enjoyable. The band has substantially upped their game." -- John Borack, Goldmine Magazine

"Chock full of powerpop delights with strong Beatles influences." -- David Bash, this is (power) pop! and International Pop Overthrow CEO

"There is enough variation throughout the 14 tracks, so you will not be bored. Highly recommended." -- Aaron Kupferberg, Power Popaholic

"The vibe is mostly Power Pop with a healthy dose of Americana and Psychedelic dustings dropped in just to make things even more interesting. " -- Rock Is The New Roll

"There's a little something for everyone ", "A real fun ride, seatbelts not needed!" -- Dagger Zine

"A truly wonderful pop LP", #6 in Best Power Pop Albums of 2020 -- Richard Rossi, Powerpop News

Top Bandcamp recommendations for 2020, NYC's Big Takeover Magazine

Top 125 albums of 2020 list, David Bash of International Pop Overthrow (IPO)

Favorite albums of 2020 list, Hop On Power Pop

Top 10 albums of 2020 list, Pop! The Beat Bubble Burst on KDHX, St. Louis

#4 on the best 50 albums list, Under The Tangerine Tree, Italy
It took us quite some time to complete this, our second record. (As Orson Welles might have said, "we will drop no tune before its time.") But the response we got from you on our first is what kept us working so hard--thanks for waiting! Now go ahead and uncork this bottle; we think you'll find plenty of tasty surprises within.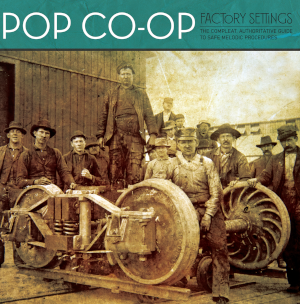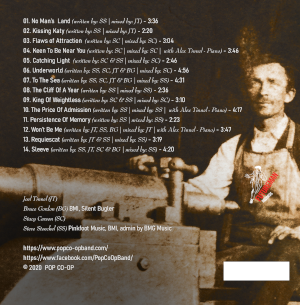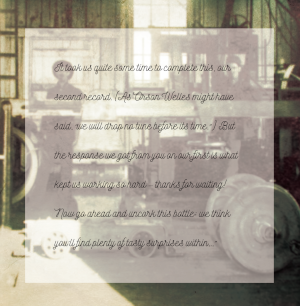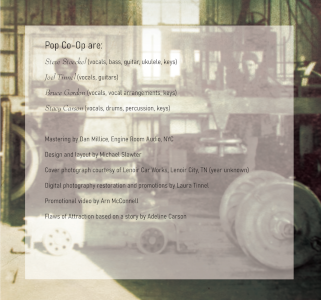 Released: April 1, 2020 on Futureman Records.
All songs written, recorded, produced, and mixed by POP CO-OP.
Mastered by Dan Millice at Engine Room Audio, NYC.
Front Cover Photo courtesy the Lenoir City Museum, digitized by Laura S. Tinnel
Graphic Design and Layout by Michael Slawter.